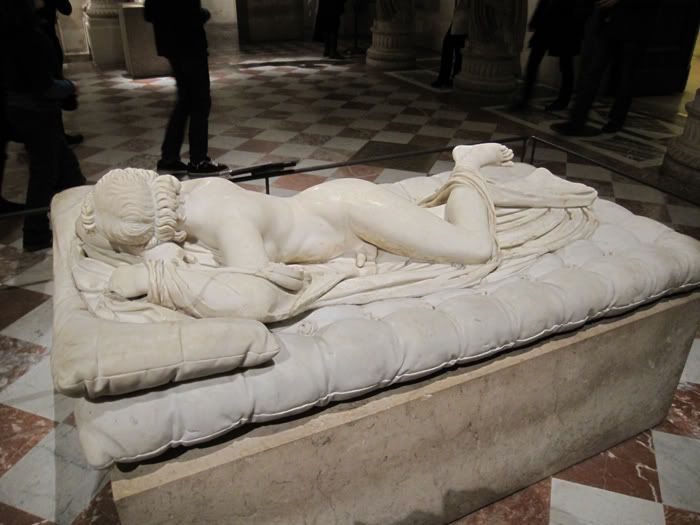 This was the last photo from my two-week European tour of late 2009. Seen at the Louvre in Paris, France, this Hermaphrodite is on loan from Villa Borghese in Rome, Italy, and is a 16th Century copy of a 1st Century Roman original.
Hermaphrodite
is noteworthy in Greco-Roman mythology. Described as the son of Hermes and Aphrodite, he has always been described as someone with both male and female attributes. However, the Wikipedia article seems to describe Hermaphrodite as a feminine being who happens to have male genitals, making him an historical form of shemale porn. And that's certainly what I saw at the Louvre - a lovely nymph with soft, feminine curves and proportions, but with a very well-endowed manhood that's greater than those on the teabagger warrior statues nearby.
I felt quite insulted looking at this statue, seeing as proof that the Romans were not merely into teabagging (which I hate greatly), but also into shemale porn as well. But at the same time, I was thinking of Sarah, whom I describe as having similar attributes - a lovely, attractive woman who (until recently) was known for a large male anatomy as well. In fact, as Kirsten poses Sarah through successive photo sessions to document Sarah's bodily changes, this will be very evident as well. (I especially look forward to two particular photo sessions - Sarah's final pre-op session, where with estrogen treatment temporarily halted, Sarah feels Sanford's wild sex drive take her over, and acts more like Sanford with boobs and long hair than Sarah, then Sarah's first post-op session, where the fresh surgery scars and Sarah's newfound fully female anatomy will be the showcase, giving a very positive connotation to a normally derogative term "fire crotch.")
It will be only a few more weeks before I fly to New Orleans with Sarah's coworkers. But more importantly, it looks like I will be repeating, and continuing, my 2008 Seoul meditation regimen as well, the only question being exactly when; I had found that period, and Seoul itself, to be very conducive to my creativity, so to resume what I had interrupted will be a huge plus to me - and to the novel. Could be a very interesting summer/autumn, if I am not banned by the far-right South Korean government for my "subversive leftist" views.