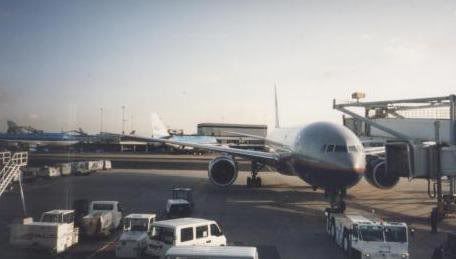 Amsterdam Airport Schiphol, December 9th, 1999.
After being sickened by one week of nonstop harassment from Amsterdam's ethnic thugs, I am leaving, and no sight could be a bigger relief than this United Airlines 777 waiting to take me back to sanity. The aircraft will fly to Washington Dulles Airport as Flight 947, and from there, I will continue on to San Francisco in a 767 that will take over the 947 flight number.
At least I can count on one of the inflight audio channels run a Melissa Etheridge marathon, once I'm on board. That's vastly preferable to flying on one of the KLM planes in the background, and prolonging my Amsterdam agony by several more hours.
Because of the Melissa Etheridge programming, plus the fact that United extended employee benefits to same-sex partners of employees earlier in the year, flying United for the millennial holiday season (I had also flown to Las Vegas earlier) was an exercise in feeling some serious doses of Lesbian Power. I have always referred to United Airlines as "the Dyke-Friendly United" ever since.
Of course, that was one of the reasons behind shaping Sarah as a flight attendant, and having her work at United. The second portion of Flight 947 indeed appeared to have a transwoman flight attendant. Though I have had no chance, so far, to "tell" Sarah that I associate her employer with lesbian pride - I know she'd reply to me with even more chants of "hopeless dyke," while appreciating me for associating her employer with something I love and cherish.
When I had started this trip a week prior, I had left San Francisco on Flight 930, arriving in London. That flight will be immortalized as Sarah's first international work assignment. (And Sarah herself will end up experiencing Amsterdam later on, and making choice comments on the thugs who made my own visit such a misery.)