This one isn't from my latest trip, it's from June 2004, when I took another trip to Seoul - on Sarah's airline.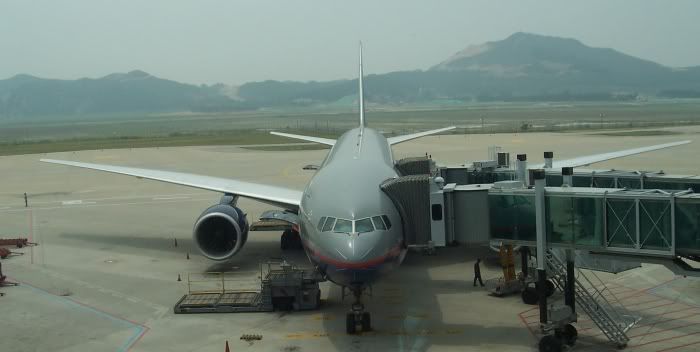 This United Airlines 777 is ready to fly me back to San Francisco (Sarah's home base), operating as United 892 and Asiana 6614. Most flight attendants, including the purser, were old; the purser, in fact, was almost geriatric. (United doesn't have maximum age for flight attendants.) I also had two Korean-speaking flight attendants on this flight, who became the basis for Sarah's coworker Julie.
United has four different types of 777s. This one is an XP, a long-range 3-class model with crew rest area below the main deck, primarily doing Asian duty. The Seoul route is Sarah's first exposure to the XP model; Sarah would've worked 747s on her previous Asian stints. United's other 777 models are the XC, a long-range 3-class model without the crew rest area, primarily doing Europe; the XI, a short-range model otherwise identical to the XC, also for Europe; and the short-range 2-class domestic model.